News Date:
Thursday, October 28, 2021
Content:
Happiness. Can you create it for yourself?
Nikki Truscelli, a newly hired lecturer in UC Santa Barbara's Department of Communication, addresses this question in her new communication course: Happiness Communication.
Truscelli has a Ph.D. in communication and a master's in counseling from Arizona State University. She is currently working with UCSB's Tamara Afifi as a researcher on the THRIVE study, which examines how virtual reality can be used as a management tool for aging adults with dementia and their adult children.
Truscelli's Happiness course is new to UCSB this fall and originated at Arizona State University under communication professor Sarah Tracy. Truscelli is adding to the course by including insights from the research she has done into intimacy and attachment theory.
She recently sat down for an interview to discuss the goals and intent of the Happiness Communication course.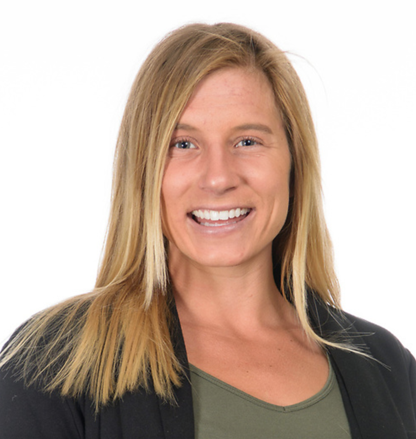 Q: What does Happiness Communication look like as a course?
A: This course looks at how our happiness is ultimately socially constructed by ourselves. And there's a lot of social scientific research that says that if our whole happiness is like a pie chart, that 40% of that pie chart is our socially-constructed ability to shape our happiness, based on our communication and our behavior. Our interactions within close relationships also feed into our happiness and so we focus on things like social support, gratitude, emotion, emotional contagion, meaningful and intimate relationships.
Q: You've done research focused on interpersonal relationships in communication. Do you incorporate knowledge from your research into the class?
A: Most of my research is on close relationships, specifically looking at the role of attachment theory, and how we are ultimately all wired for someone who fits the acronym of A.R.E: Accessible, Responsive, and Engaged, to our emotional worlds. I think my own personal passion for developing those close relationships kind of shines and comes through and we talk about that.
I also have a degree in counseling and I think in order to foster those connections that I was speaking to, we really have to work on 'How do we listen?' How do we really show up for one other? So, something that I bring to the course—and I think [Arizona State's] Dr. Tracy now is doing this also—we do a segment on listening, and specifically on balanced listening: what it looks like to show up and to listen without giving your advice, your expertise, your opinion, without telling your own story.
Q: What are the biggest takeaways students get from the class itself?
A: I hope that students feel more empowered, that they do have some control over their well- being, and a lot of it is through communicative practices. I say 'practice' because it's not a one- time thing. You have to adapt, you have to change, you have to grow to learn what that looks like for you— it's very personalized. I hope that they leave empowered, and that they leave willing to share that information because they've had a personal transformation.
Q: How do you think the message from this class can be applied to an individual's future life?
A: Whether these activities of happiness that we engage in throughout the class are practiced between romantic partners, possibly. And they might see relational transformation as well as individual transformation.
I know a lot of the things that we talk about are traits or behaviors that are admired in a leader. In the workplace, being able to instill pieces of gratitude or even forgiveness, or learning about building social connections and what that looks like in the workplace.
I see this course as touching many aspects of an individual's life and I think that there are a whole bunch of tools that hopefully you're building in your toolbox that are going to allow you that personal transformation, which then will allow you to show up as the best version of yourself to these different contexts, whether that's work or the relationship or friendship.
Katie Yang is a third-year Communication major at UC Santa Barbara. She wrote this piece for her Writing Program class, Digital Journalism.
(Photo above: Nikki Truscelli)
October 28, 2021 - 2:50pm