News Date:
Tuesday, February 22, 2022
Content:
A few nights before final exams last fall, I left my textbooks in my room to meet with 32 other UC Santa Barbara students at Mosher Alumni House, taking photos on disposable cameras and reflecting on our work as marketing consultants with professional companies. 
As members of
Gaucho Creative
(GC), UCSB's first and only student-run marketing consulting organization, these students had just concluded their 10-week projects for big-name clients Uber, Zoom, and Monet. 
The consulting group is an extra-curricular opportunity at UCSB, not attached to a particular course. GC's members spend their weekday evenings as contracted consultants and designers in order to further their career prospects. The organization runs two project cycles a year, with three clients each cycle for a total of six projects a year. 
At a campus with over 23,000 undergraduate students, being recruited into GC is a competitive and selective process. The organization prides itself on bringing in "diverse and entrepreneurial driven students together to drive unique and innovative strategies," according to its website. Through social media, connections with other campus organizations and departments, and promoting its events on campus, GC has made the effort to be accessible to any student, regardless of their major or background.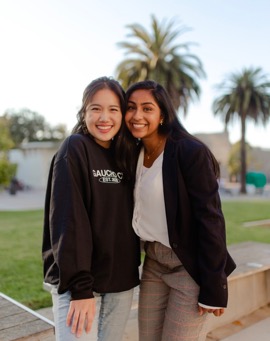 GC co-founders Amy Zhou, left, and Devanshi Mehta. Photo credit: Milan Brito
Today, buzz about GC is evident on campus among students aspiring to enter marketing, with over
800 followers on its Instagram account
, but the organization wasn't always so esteemed. In fact, less than two years ago, it didn't even exist.
Co-founders Amy Zhou (Class of 2021, Political Science and Communication) and Devanshi Mehta (Class of 2023, Economics and Art History) boldly set out to start a marketing consulting group from scratch during the height of the pandemic, in the summer of 2020. Without the help of any school advisors, Zhou and Mehta set out to create their own UCSB-registered student organization. 
"My friends that attended Berkeley and USC had ample access to organizations that provided hands-on business experience. In my mind, I saw no good reason why those programs shouldn't exist at UCSB," Mehta said in a recent interview. "I knew that if I wanted these resources, other students here did as well. Amy and I chatted, and that was enough verification that I was not alone."
Since then, GC has made strides in gaining a reputation on campus. This past fall, its projects included creating paid Tik Tok strategy for Uber, consumer insights and user experience design for Zoom, and integrated marketing for the viral dating app startup Monet. Each GC team had 10 members, including a blend of consultants, designers, and managers that oversaw the projects and client interactions.
I have been able to experience GC's unique community firsthand as a project manager this past quarter for the Uber project, in which my team of consultants and designers spearheaded Uber's Tik Tok presence with humor and creativity. The other project managers, Milan Brito (Data Science and Communication) and Alison Schwartz (Economics and Communication), always light up when we discuss our experience of personally landing our clients for the fall quarter.
"I was super excited to work with Zoom because we had a unique opportunity to work with a company that was rising quickly in popularity. Not only that, but the people we got to work with were excited to gain our fresh insight into the younger demographic," Brito said.
Of course, these projects don't get done without a couple of roadblocks along the way, which each team faced in their own ways. "The most challenging part with Monet was all the moving parts. There were a ton of different workstreams to juggle–from paid and organic social media to PR," Schwartz explained.
GC shows no signs of stopping as participants learn from these trailblazing experiences. The group is now transitioning from working completely pro bono as a student club, to receiving some financial support from clients who have begun to donate.
"When Devanshi and I first started, I remember we had this grandeur dream of, one day, being able to pay our members," Zhou recalls. "The fact that that was accomplished within a year and a half kind of blows both our minds."
Still, earning money was never the main goal. "We really intended GC to be a curated space for students with vision and enthusiasm. We wanted that to extend beyond the members in it. I hope that we continue serving our immediate communities in the ways that we're able," Mehta said.
Now GC is pausing its project work this winter to focus on building the business community at UCSB through workshops, skill-building activities, and more.
Although Zhou has graduated, she has stayed involved and high hopes for GC's members, hoping to see them set a precedent for other organizations on campus, particularly in how recruiting should be done, how to highlight diversity, equity, and inclusion (DEI), and how to be involved in the community.
Patricia Wang is a third-year Economics and Political Science major at UC Santa Barbara. She wrote this article for her Writing Program class, Digital Journalism.
group photo credit: Milan Brito
February 22, 2022 - 11:00am