Content:
At a time when hate crimes are on the rise against Asian Americans, UC Santa Barbara undergraduate student Keren Zou is taking action and providing support to fellow students.
Zou works as the president of
UCSB Chinese Students and Scholars Association (CSSA)
, an association that offers support to Chinese international students at UCSB. She is also triple majoring in Asian American Studies, Geography, and the History of Public Policy and Law.
She sat down for a recent interview about her student group's efforts on behalf of equality, her interest in Asian American Studies, and the meaning of hate crimes targeting Asians. 
Keren Zou in her office on the UCSB campus
Since you are president of UCSB's Chinese Students and Scholars Association (CSSA), how do you and the association help Chinese students on the campus?
The Chinese Students and Scholars Association helps Chinese students in many ways. For example, we contacted the university administration last summer about how to resolve the housing crisis for international students, especially Chinese students.
I was literally turning over every stone, connecting with virtually every school department and every faculty member that I could reach. Professor Paul Spickard [History] was very supportive. He shared with me a lot of information about how the university was trying to mitigate the problem and helped me to reach out to other association leaders to let them know about the problem the international students are facing.
How is your experience as president of the Chinese student organization associated with your major, Asian American Studies?
They are really interrelated. Actually, I am very proud to say that the current CSSA shoulders similar social functions that it did decades ago, that is to unite Chinese students and to provide support for them in a foreign country, especially in hard times, like during the pandemic.
I remember I saw a booklet published by CSSA in 1940. The detailed list of all the Chinese scholars and students in America really struck me. It includes their names, addresses, and contact information. It is actually a way to gather all the available information and resources. 
Why did you choose Asian American Studies as one of your triple majors? 
In the spring of 2020, there was a surge of hate crimes against Asians in America during the pandemic. That summer, former president Donald Trump had tried to publish a lot of immigration restrictions and specifically targeted international students, which was really, really tough. 
It was actually at that time that I realized my status as an "immigrant," or as an F-1 visa foreign student, really means a very distinctive experience in America. So, I started to have a deep interest in the history of Asian Americans in particular. 
As you can see, Asian American studies is not only about literature; it's also about society. I think it's an academic way for Asian Americans to express themselves and gain their say in the society.
Has what you learned in Asian American Studies courses helped you understand possible causes for such Asian hate in America?
I think it is very much associated with the "yellow peril." The yellow peril is a stereotype aimed specifically toward Asian immigrants according to this racial category, because they are perceived as yellow. And by peril, the term means that these Asian immigrants were like a threat to the country. Western people used to think that Chinese labor was not good labor, because workers smoked opium, they were weaker, and they were taking away other people's jobs. So, [fearmongers] thought Asians were contaminating America.
It is notable that there was an Asian hate incident in 2021, in March last year. Six women were massacred in Atlanta. The murderer shot six women at different places. One was a massage parlor owned by an Asian American woman. That guy believed that Asian women were engaged in underground sexual industries, but there was no actual proof. It is especially during a hard time that Asian Americans are considered scapegoats. For example, Donald Trump referred to the Coronavirus the "China virus."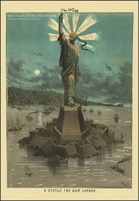 A Statue For Our Harbor, an Asian hate Comic criticizing Chinese fishermen, The Wasp, November 11, 1881
How do the Asian Americans help each other to fight against the stereotype of the 'yellow peril'? When did Asian Americans start to organize?
As far as I know, one of the ways for early Chinese immigrants was to form associations. When the US government released the Chinese exclusion policies in the late 19th century, multiple Chinese provincial associations realized the importance of cooperation. Then they established the Chinese General Chamber of Commerce. As a representative for all the Chinese Americans, it played a role in contacting the government against the inequalities, like negotiating wages and organizing protests. 
I really admire all these Asian ancestors who stood up, hand in hand, and fought against discrimination. They are really resilient and collaborative. I can really feel the connection between them. Everyone in the association would willingly offer their support to each other and strive for equality and a better life. 
Dingyan Zhou is a third-year international student majoring in linguistics at her home university in China.
She conducted this interview for her Writing Program course Digital Journalism.
May 25, 2022 - 9:58am