Content:
The COVID-19 pandemic put a temporary stop to opportunities to study abroad. Now travel is opening up again, and UC Santa Barbara students are making plans to take courses overseas. While no UC Santa Barbara students were studying abroad in 2020-2021, Education Abroad Program director Juan Campo expects 1000 UCSB students to study abroad this year. "In 2019-20, we expected to have close to 1400, but the pandemic cut our numbers in early 2020. In 2020-21, we had no students abroad," Campo said.
Now, he expects the numbers to keep going up this year, even though COVID remains a health risk. Xander Sorensen, a Communication major at UCSB, is among those who plan to do so. Sorensen is looking forward to studying at the University of Copenhagen, and spoke in a recent interview about why he wants to study abroad, the application process, and how COVID has affected his plans.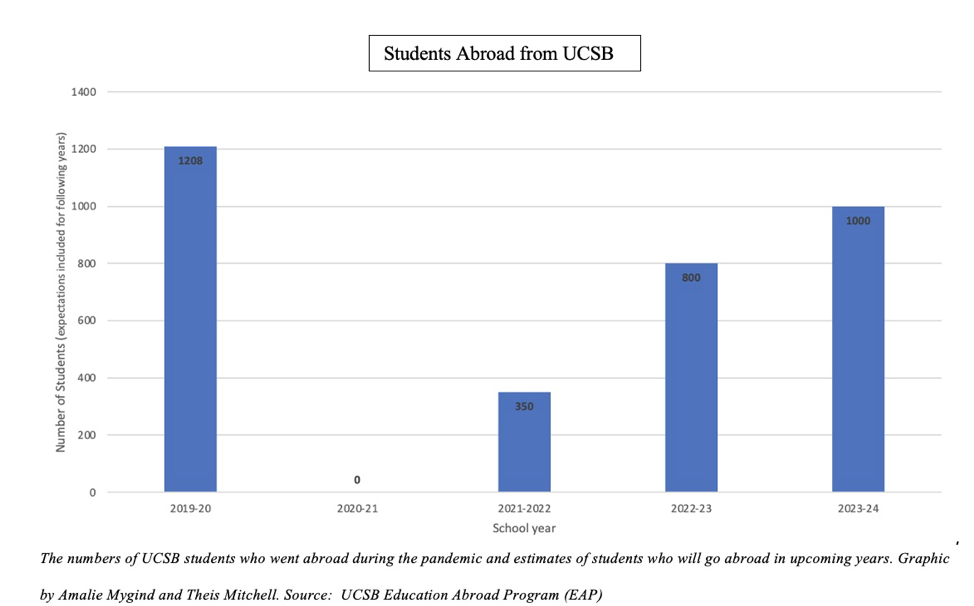 Why did you choose to study abroad at the University of Copenhagen in Denmark?
I chose the University of Copenhagen because more culture is there, and many people come from elsewhere. My mom is also Danish, so I have family in Denmark, and I want to see how my mom grew up and how it was for her when she was my age. Going to Denmark is an opportunity to be close to my family, who I usually don't see often. But I like seeing and learning new things, so I am excited about my exchange program.
How has your application process been so far?
It's pretty easy. It has been a collaboration between UCSB and the University of Copenhagen. The hardest part is to see which classes I can take that UCSB will accept for my major. But the actual process of going there, finding somewhere to live, and getting into the school has been straightforward.
Has COVID affected your study abroad plans? Is it something you have had in mind?
It actually has. I was supposed to study abroad two years ago. But then COVID happened. I could still have gone, but it would not have been the same experience. So, I called it off and waited until COVID mellowed out. I didn't think it would have lasted so long, but now I am finally getting the chance to go.
How do you think it would have affected your experience if you had gone during the height of the pandemic?
I think it would have changed it a lot. I don't know how strict the restrictions were in Denmark, but I think that I would have met fewer people and had fewer opportunities. Probably also online education on Zoom, so I am glad that I waited.
What do you expect to get out of your study overseas? Why not just stay at UCSB?
I expect to have a change in exposure to culture. By growing up in the USA, I have been exposed to many different cultures through travel and vacation, but I think going to another place and living there for an extended period will truly let me understand a different culture. And even try to see where I fit in if I even do fit in. It may affect my education because how school is viewed overseas might differ from how it is here. I will maybe enjoy it more than I do here. The only way to tell is by actually going. 
Do you have any thoughts on how you think you can use your study abroad in the future, both career-wise and in your personal life?
Maybe I will meet professors who teach differently and teach things that I wouldn't learn at UCSB. That will inspire me, motivate me, and change how I look at things. Being in Denmark will also let me learn everything my family does and see it first-hand. Overall, it will broaden my horizons, and I am looking forward to it.
Theis Mitchell and Amalie Mygind Andersen are a third-year international students majoring in film and media studies at the University of Copenhagen. They wrote this article for their Writing Program course Digital Journalism
June 6, 2022 - 1:12pm