Content:
A group of female student entrepreneurs at UC Santa Barbara have established a new student-run organization called "Women In Business," which recently hosted the Diversity, Equity Inclusion recruiter from Meta, formally Facebook, to share some career pointers with members.
"If someone offers you an amazing opportunity and you are not sure you can do it, say 'yes.' Then learn how to do it later," said Meta recruiter Donnie Small, citing British entrepreneur Richard Branson.  "I want to share with you all how saying 'yes' has impacted my life and how it changed the trajectory of my career."
Donnie Small has been recruiting companies for more than 25 years, focusing on equity and inclusion. She is originally from Virginia and worked in tech start-ups in Washington, D.C. before moving to the Bay Area at age 38 to work at a tech start-up there.
"I asked myself, do I want to move all the way across the country, knowing no one there? It was one of the hardest decisions I have made. My first 'yes' to something truly outside of my comfort zone," Small said, in a Zoom session with students.
Small started networking with fellow professionals there and within eight months, her friend started a job at Facebook and invited Small to work with her. Two years later, her boss asked her if she would take on a new role as a DEI recruiter, a role that no company had previously created.
Her long-term vision is to see DEI departments in all companies phased out in the next 10 years. "There should not need a DEI department, people should just be able to do this on their own," said Small.
Simona Nanda, president of the new Women In Business student group, said that DEI is also something that her club is extremely passionate about.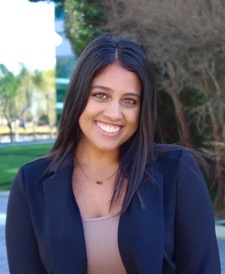 Simona Nanda, WIB president
"Going into starting the club, I really want it to be a community for women to talk about things that are not talked about that much," said Nanda, a senior about to graduate in Communication with a Technology Management certificate.
"We had an event called Breaking Barriers where we invited a panel of professors to speak and talk about their experience being women of color and the disparities they have faced growing up. I want to challenge expectations and norms."
Women In Business plans a speaker series featuring career professionals, networking events with other universities, resume workshops led by UCSB's Career Services, and LinkedIn workshops.
"Coming into UCSB as a junior transfer student in 2020, I searched for an environment to be with like-minded people and I am really passionate about entrepreneurship," Nanda recalled. She was inspired by the Women In Business club at UC Davis and decided that she wanted to bring that to UCSB.
Third-year transfer student Sydney Sparks, majoring in Economics, reached out to Nanda in 2021 to discuss the same desire to create an environment that is safe and supportive of women. Sparks brought Nanda eight other transfer students. Now there are a total of 10 transfer students on the executive board.
 "We have our leadership sorted it out already for next year, and we are currently preparing for recruitment next fall," Nanda said. She encourages all female students entrepreneurs to look out for more information on their Instagram page @ucsbwib.
The group's recent guest speaker Donnie Small now directs global DEI recruiting at Meta with many teams under her. She offered some advice for students who are entering the workforce as she wrapped up her speech, saying the most important thing is probably networking.
"Go networking. It is a part of our culture at Meta to network. I didn't understand how important this is until doors opened up for me. People who I didn't know started hitting me up and asking me if I wanted to join them to work on projects because they know I'm good at it," she said. "You can do a lot of things on your own but you still need people to open up opportunities for you."
Jessy Chen is a third-year UC Santa Barbara student majoring in Communication.
June 7, 2022 - 10:29am