Content:
Coming from a low-income background and being the first in her family to attend college, Sociology student Abigail Mena doesn't feel like a typical UC Santa Barbara student. In fact, her time here has felt like quite a shift from what she is used to in South Central L.A., where there are few white neighbors. Like most students who move away from home for college, Mena initially struggled with finding her "crowd."
That is until she joined her sorority, Lambda Sigma Gamma (LSG). The LSG Sorority, Inc. was created in 1986 by Multicultural Women at California State University, Sacramento. The UCSB Zeta Chapter, founded in 1991, adopted the same purpose: to give women of color the opportunity to succeed in higher education. In a recent interview Mena sat down to tell how she found a "home away from home" with the help of the LSG mission and her sorority sisters.
Can you describe your background for us?
My parents are immigrants. My dad's family was really poor, so he came here to work and send money back to his family. When he got with my mom, they got married and came again. They grew up in the rancho of San Gertrudis de Los Lagos. It's really poor. There are no cities. The school is only one room and it's really lacking in resources. They wanted my brother and I to have a different life than they did, whether that's health care, education– just a better upbringing, and more quality of life.
I'm grateful and lucky that I have parents that have put in the work and have been putting in the work…My parents don't know what college is. I can explain to them as much as I can about it and they still might not get it. But they still listen and support me and do what they can to help me. That's all that really matters to me.
How different is UCSB from what you are used to?
Now, we live in South Central L.A. Compared to here, honestly, there's no white population. My school consisted of purely Black and Latino students. At the end of the day, I feel like it was modern-day segregation, almost. Because that's all we knew.
Then, I came here, and it's obviously not like that. It's hard. I've never seen it before. I'm meeting all these new people. And I'm just like, "Wow." I had a really strong community back home, but I guess it's kind of bad, in the sense that I never really had an opportunity to connect with other cultures besides my own.
 Describe how you got into Greek life and how it helped you find your circle of friends?
I came here already knowing somebody from back in L.A. She introduced me to the Greek community. I got to meet more people in the org and we just connected. Once I built that connection with my line [sorority] sisters, I felt at home here. Like, "You guys understand me. I understand you and we can go through this together."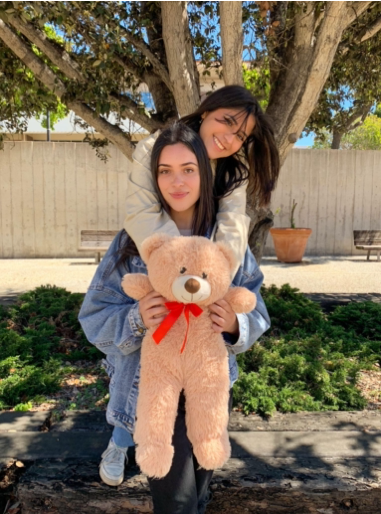 Abigail Mena with sorority sister Marisol Garcia
How has Greek life helped your college experience? Do you think you would be where you are or the person you are now without your sorority?
Well no. I almost dropped out in my first quarter. And it was because I couldn't grasp the concept of college. It was difficult for me to understand the process. All these new things like UCSB's learning platform Gauchospace. Like what the heck is Gauchospace?
All of this felt so overwhelming to me but then my sorority sisters started talking to me about it—about classes, their journeys, and their lives. They were like, "Yeah, it can be hard. Yeah, it's going to be harder but we're here. We have made it. We're an example that you can actually do it. You are going to be fine." Before it felt lonely. I don't feel the same now.
It wasn't like, "Oh, you should know this already." It would be, "Let me help you, let me connect with somebody that can help you. I've been through this. Let me give you some advice." They never made me feel dumb or made me feel like less for not knowing something.
Why did the LSG sorority appeal to you?
I liked that it was multicultural. My sorority motto is "Beauty through diversity" and our basis and pillars are to promote multiculturalism. It's one of the main reasons I joined. I felt like we all have different backgrounds. We all have similar identities in a sense, but I think everybody brings something to the table. My sisters literally exemplify that.
One of our older sisters– she's an alum now–was an international student from Japan. I would have never gotten an opportunity to meet somebody like that and connect and understand what their life is like. She said she joined because she had never seen a group of women that advocate for each other like we do. We have this type of connection that you wouldn't get anywhere else.
Would you recommend joining a multicultural sorority?
Yeah, of course. The one I'm in connected with me, but there are other orgs. Each org gives off its own different vibe. Find the group of people that you connect with the most and then go for them. I just connected a lot with LSG. We vibe well together. We have similar mindsets. We have similar goals. I really think it depends on you.
Any last-minute comments?
Research communities for you. Get out of your comfort zone to find what you need to succeed in higher education because at the end of the day you're doing this for yourself and nobody else. If that's what you need, that's what you need. You shouldn't let anybody tell you otherwise.
Makayla Gomez is a second-year Communication and Political Science double-major. She wrote this article for their Writing Program class Digital Journalism.
June 9, 2022 - 2:00pm