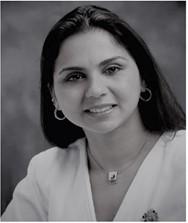 Bio
:
Aarti Awasthi is the CEO of Artsybug LLC, an organization that promotes contemporary Indian Visual Art. She studied fashion design in New Delhi and Paris, worked for a few years for clothing exporters in India, and eventually moved to the United States in the early 2000s. Artsybug was founded in 2001 with the objective of hosting art shows to promote art and artists as a whole.
Today, Artsybug has alliances with over 100 senior Indian artists and art galleries. Along with leading her company, Aarti serves on a multitude of boards in the Bay Area.
A graduate of Delhi University in 1991 and the National Institute of Fashion Technology, Aarti holds a B.S. in Zoology and a degree in Fashion Technology.
She is a parent of a UC Santa Barbara alumna.