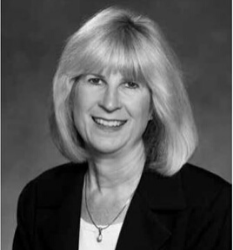 Bio
:
Louise Pahl spent her career as a Nursing Home Administrator and worked as the Associate Director of Development for the American Heart Association. Louise also served as the Associate Director of Community Services Agency of Mountain View and Los Altos. Additionally, she assumed two committee leadership positions while serving as a member of the Santa Clara County Civil Grand Jury.
Louise has been actively involved with the Junior League of San Jose since 1990. Additionally, Louise is active with the Palo Alto Hills Golf and Country Club, having served as Vice President and Chair of the House Committee.
Louise has been a member of the Northern California Capital Campaign Committee for UC Santa Barbara for 12 years and currently serves on the Bay Area Regional Leadership Committee. Louise and her husband, Stephen, have endowed an undergraduate, upper division "Making a Difference" award in Social Sciences. They recently established the Pahl Center for the Study of Critical Social Issues in UC Santa Barbara's Division of Social Sciences to fund interdisciplinary research and teaching on major social issues.
Their passion for golf also led to their involvement with supporting a Living Scholar on the UCSB Men's Golf team.
Louise became a trustee of the UC Santa Barbara Foundation in 2013. A graduate of UC Santa Barbara in 1977, Louise holds a B.A. in Sociology.